Collection
Frequency
This collection was imagined and designed to reflect life's language; vibration and frequency.
All the pieces are a representation of how sounds affects our cells and everything around us by forming forms and shapes "cymatics" in reaction to frequencies.
The frequency Collection is all about love, heart opening, clearing, protection and healing.
Shapes do have an influence over energies so by designing jewelry pieces that represent the image of sound the designer wanted to offer the wearer a powerful token to be used to emphasize its beautiful intentions through its journey.
Shop collection
collection
KHAMSA
The Khamsa collection is inspired by the wholeness and interconnectedness of all things throughout time and space.  Each piece is imbued with the intention that it's wearer may experience an abundance of good fortune, health, happiness and connection.
Kasha is timeless elegance.
Shop now
If you can dream it, you can create it. But you first must dare to dream.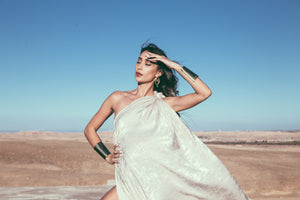 KNOWN FROM





"
Absolutely unparalleled products and service. I'm confident that this store will be the next big thing in its industry, and that its products will be timeless.

"
Gallery
You will love these